---
The Boxer Standard: Color
According to the Boxer Standard, the acceptable coat colors for boxers are Fawn and Brindle. The mask is black and should be confined to the muzzle. White markings should enhance the dog's appearance but may not exceed 1/3 of the entire coat. All other colors are disqualified from the standard, as well as boxers with white markings exceeding 1/3 of their entire coat.
Shades of Fawn
Fawn occurs in Boxers in various shades; from a Light Golden Tan to a Dark, Deer Red. The black mask is essential to the Boxers expression, and white markings should be distributed as to enhance the dog's appearance. Examples of these are below
Light Golden Fawn
This shade is in the Yellow-Gold range of the fawn color spectrum. The white markings are perfectly placed to enhance this puppy's expression.
---
Light Mahogany Fawn
This shade is in the Brownish-Red range of the fawn color spectrum. Note how the pitch-black mask & the attractive white markings enhance the coloration of this puppy.
---
Dark Red Fawn
This shade is in Dark Red range of the fawn color spectrum. The darker red shades of fawn are considered to be very desirable.
---
Brindle Varieties
Brindling is Dark or Black stripes that run parallel to the ribs on a Fawn background (this can be any shade of fawn). The stripes should be distinct to contrast the fawn background and not be to close in shade that the 2 colors "muddy" and the brindle markings disappear. Brindle stripes can range from sparse; to clearly defined; and then to the "Reverse Brindle" effect.
Fawn Brindle
This variety has a sparse brindling pattern where more the fawn background color is exposed.
---
Clearly Defined or High Contrast Brindle Pattern
This variety has a very distinct brindle pattern where the stripes are in high contrast to the fawn background color. This puppy has an excellent symmetry in the distribution of both black and fawn colors.
---
Reverse Brindle
This is the most popular of the brindle varieties, the striping pattern has such a high concentration of black markings that the appearance of the brindle pattern is "Reversed".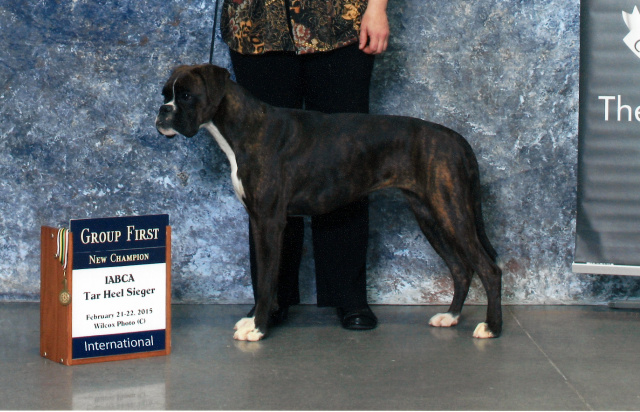 ---
White Boxers
White boxers are disqualified from the standard according to the AKC. They are not permitted to show in conformation & are not suppose to be bred. They are allowed to compete in other AKC events such as Obedience, Agility, and & Rally.
They make Excellent Pets!
According to the AKC, White Boxers & Black Boxers are disqualified from the Boxer standard and cannot be shown in conformation nor should they be part of any breeding program. Breeders who deliberately breed white & black boxers and then attempt market them as "Rare" should be regarded with the same disdain as "back yard breeders" and "puppy mills". They are not breeding to better the breed, they are breeding to make a buck!